Rights Restoration
Aggressive Criminal Defense Available to Fight For Your Future
Rights Restoration Lawyer
Restoring Your Rights in Tucson
Rights Restore® is a service offered by the Law Office of Carlos A. Medina, PLLC. We are dedicated to restoring our client's rights and freedom. We help clients get back to their everyday lives, to their families, and their jobs. A felony conviction removes your civil rights to vote or run for office; it also affects your ability to own any type of firearm. Criminal records also negatively impact employment and educational opportunities; the ability to get professional licenses, housing opportunities, and a conviction may negatively influence loans or other financial opportunities.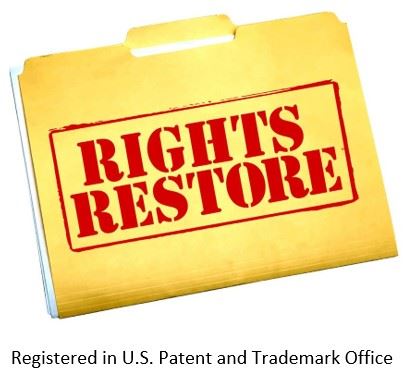 If you already have a conviction on your record, Rights Restore® has experience helping clients get their rights back and get their lives back.
Services
Restoring Civil Rights
Arizona wants everyone to be able to rebuild their lives after a conviction. We can help tell your story so that you can achieve your dream to move forward with your life with the ability to exercise your right to vote, hold office, get a job, live in a better place, and serve on a jury in Arizona.
Restoring Gun Rights
Arizona has provisions to restore your gun rights, but the field is complicated and requires expert navigation. Your rights might be restored two years after your sentence is completed for most convictions. If you were convicted of a "serious offense" under section 13-604, there is a 10-year waiting period; and if your conviction was for a "dangerous offense," you cannot restore your gun rights. Let us work with you to assess your case and determine if you can obtain a successful restoration of your gun rights.
Set Aside Convictions
In 2018, Arizona expanded the provisions that expand criteria for obtaining record set asides. If your conviction is set aside, you are released from the disabilities and punishment you faced due to the conviction. Our firm will look at your case and work with you to determine if your felony or misdemeanor conviction successfully meets these provisions.
Expunge Marijuana Arrests, Convictions, and Adjudications
In 2020, Arizona voters passed Proposition 207, which legalized the use of recreational marijuana for people 21 and older. The proposition adds a number of statutes to Arizona's state laws, A.R.S. § 36-2682, which states that people who have been convicted of specific marijuana offenses may petition the court to have their records related to those offenses expunged or removed permanently from their record. The eligible offenses include the following:
Possession or consumption of two-and-one-half ounces or less of marijuana
Cultivating, transporting, possessing, or processing six or fewer marijuana plants in a private home
Possessing, transporting, or using drug paraphernalia that is associated with marijuana
Juvenile Rights
Set Aside Conviction
In the State of Arizona, if you receive a set aside of your conviction, you will be relieved of any punishment or disabilities that resulted from a juvenile adjudication. This is an option for some offenses not involving a weapon or serious physical injury, if you have completed the sentence, and are now over 18. To be eligible, you must have no adult convictions or pending charges. Contact us so we can help.
Destruction of Records
If you are at least 18 (or 25 for certain serious felonies), have no adult convictions or pending charges, and have completed all terms and conditions of your sentence in Arizona, destruction of records is available. The sealing destroys the records, but it does not relieve you of any punishment or disabilities that resulted from a juvenile adjudication.
Sealing of Criminal Records
Beginning on January 1, 2023, those arrested for, charged with, or convicted of certain offenses became eligible to seal their criminal records in Arizona. By sealing your record, you do not have to disclose information concerning the crime on applications for employment, housing, financial aid, or loans (with some exceptions).
Under the law, you may qualify to have your record sealed if you were arrested but charges were never filed, charged but the case was dismissed or resulted in a not guilty verdict, or convicted and completed the terms of your sentence. The waiting periods for filing a petition are 10 years for class 2 or 3 felonies; 5 years for class 4, 5, or 6 felonies; 3 years for class 1 misdemeanors; and 2 years for class 2 or 3 misdemeanors.
Only certain offenses are eligible for record-sealing. Your request will be denied if you were arrested for, charged with, or convicted of a serious offense, such as an aggravated felony, a crime involving a weapon, sex trafficking, or felony-level sexual crimes.
Talk to our firm to discuss your eligibility and options for sealing your criminal record.
Find out if you are eligible
Save time and money, figure out if you are eligible to have your rights restored with one consultation. To determine if we will be able to help you, please fill out our contact form, and the law firm will set up a free, confidential consultation. At that time, we can determine what your options are. Once you sign up, we will begin working on your case to get your rights restored. Rights Restore® is based in the city of Tucson but provides services throughout all surrounding areas.
Need your rights restored? Contact the Law Office of Carlos A. Medina, PLLC at (520) 251-9561 to speak to an Arizona rights restoration lawyer.
What can you expect to pay?
Rights Restore® has established a reputation as an Arizona leader in restoring rights for our clients. We provide you with expert rights restoration services at a fixed price of $1,000 per case, covering everything from start to finish. We also offer discounted services for our veterans.
Our flat fee of $1,000 per case includes research, filing motions, court hearings, arguing or responding about your case to the prosecutor or judge.
Payment plans, credit or debit cards accepted.
Our focus is on providing you personal legal services that will help get your life back on track.
Why choose us?
We are timely
We are honest
We are accessible
Let Us Fight For Your Future!
Call

520-251-9561

or fill out
the form below to get started.
Do I have to consent to a search of my home or vehicle?

A: The Fourth Amendment to the U.S. Constitution offers protection against unreasonable searches and seizures. This means that law enforcement cannot simply search you or your property or make an arrest without probable cause. You have the right to refuse a law enforcement officer's request to search your car or your home, but if they have a warrant or believe they have probable cause, they may be able to conduct a search. If you believe your property was illegally searched, an attorney can assess the situation and determine whether this can be used to your advantage in challenging your arrest or charges.

What are my rights if I'm arrested?

A: If you're arrested, you have the right to remain silent. You have the right to an attorney. If you cannot afford an attorney, one will be provided to you. These rights are essential, as anything you say or do after you are taken into custody may be used against you in court. Exercise your rights and protect your interests.

If I refuse to give a statement or answer a question, will I face criminal charges?

A: As already mentioned, you have the right to remain silent. You can politely refuse to answer questions posed to you by a police officer, and you should not face criminal charges simply for exercising this right. Depending on the situation, however, you may still be arrested and taken into custody. Be sure to request to speak to your attorney, who may be able to challenge an unlawful arrest.

What is a plea agreement? Should I accept it?

A: A plea agreement typically involves lesser charges or punishment offered in exchange for a plea of guilty or no contest. Do not accept a plea offer without first talking to your attorney. You need to be certain that this is in your best interests. In some cases, a skilled criminal defense lawyer may be able to fight your charges and help you avoid a conviction altogether – which is far more advantageous than any plea agreement.

If I'm innocent, do I really need an attorney?

A: Guilt or innocence aside, your future is in jeopardy in the face of criminal allegations. You need an attorney who can protect your rights to show the judge and jury that you are innocent. Legal processes must be followed, and attempts by the prosecuting attorney and law enforcement to secure a conviction must be effectively countered. Even if you are innocent, you need a professional to handle your case.